GENERAL INFORMATION
Please log in to your online account: https://nu-mms.ipc.be/mmu-panel-zone/login/login.htm
Once you have successfully logged in to your account with your Panellist ID and password set by you, the following Welcome Page will be available. It will give you an overview of all important features.
You will receive 3 – 5 test letters per week. You can see the exact item ID and from which country they were sent in your online account under 'RECEIVING PLAN'.
For the correctness of the collected data it is very important that you empty your mail box on a daily basis in the late evening. Please check the cover letter for exact information on the latest possible delivery of mail in your country. Furthermore, it is essential that you enter the data the same day as you receive the items.
Please make sure to always note the receipt date and weekday on the item when you received a test letter. Additionally, please keep all test letters for 3 months. Within the retention period of three months and in individual cases we may ask you questions concerning a specific test letter.
Data entry
The test letters are of three different formats – small (C6) and big letters (C5 and C4).
After you have received the test items, please confirm the receipt date in your online account.
Please click on 'REGISTER RECEIVED ITEM', enter the Control ID / Identification Code which you can find on the document inside the test item and click on 'Search'.
Now please enter the correct receipt date. If you cannot remember the exact receipt date, please click 'unsure'.
Transponders
Transponders are small electronic and harmless devices tracking the transit times of a test letter at certain gates within the postal systems. Please note the transponder will not track or ping or submit any data or information from your home or company. There are three different types of transponders:
Passive transponders -> a label with a barcode already affixed to the test letter document
Active transponders -> a separate item inserted in the test letter
Dual transponders -> a combination of 1. and 2.: a label affixed to the separate item inserted in the test letter
Depending on your country, you might receive test letters with one to three different transponder types. If you will receive an active or dual transponder (please see picture below), please make sure to return these to our production unit by simply using a return envelope provided by us. Please insert one or two transponders into the return envelope depending on the instructions that come with them. Please note no franking of these envelopes is needed, as these already are Pre Paid! It is very important that you will be returning all received active and dual transponders on a regular basis – latest a week after this transponder has been received. Passive transponders do not have to be returned.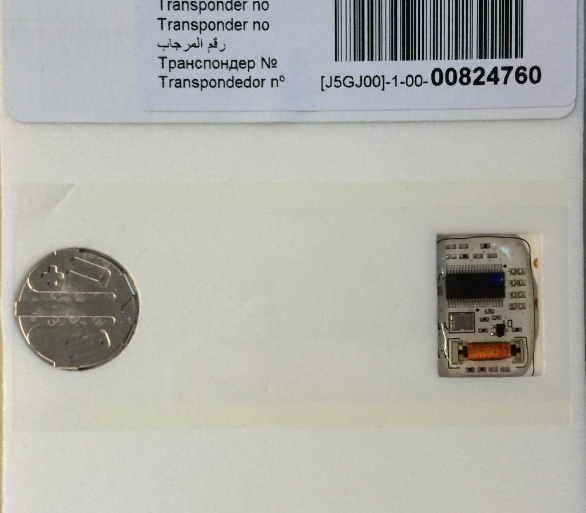 Item Queries
After having entered a receipt date, you might receive an item query, if the data entered differs from the planned receipt date or if any other data related queries occur. This will be shown directly at the home page of your online profile at the upper part of the page (please see picture below).
Please click on  'Resolve Item Queries' and fill in the outstanding data.
Receiver Query

If the data you have entered for received items has been queried, you are asked to check the date when you received the item (as shown above). Please fill in the date and click on 'Save' if you are sure about the date. If you are not sure about the date, please click on 'I don't know anymore'.
Please note: To make sure that the data you have entered is correct, we kindly ask you to always note down the receipt dates of every test item on your posting plan.
Not available to Send/Receive
Ideally you are available during the entire duration of the survey or you can delegate the task to another person in case of your absence or illness. Please inform us immediately about any period in which you won't be able to send test items (e.g. change of address, absence, holidays…).
Please click on the button 'NOT AVAILABLE TO SEND/RECEIVE' and thereupon on '+Add'.
Now fill in the start and end date and the reason. If you are unavailable for a whole week, please make sure to include the weekend when entering your end date.
If you have a cover who can perform the tasks when you are not able to, please select the box 'Covered by someone else'. A cover helps us to meet our target of sending a certain number of test items from your postcode area during the year in order to make our findings statistically valid.
The section 'Person who will cover me' opens. Please fill in the required information – Name, Phone Number and Email – and click on 'Save'.
If you wish to add another period where you are not able to send test items, simply repeat the above mentioned procedure.
Anyone who is over the age of 18 can cover you as long as they can perform the tasks exactly as you do: check your mail box on a daily basis in the late evening, and enter data online. A family member, your house mate or neighbor, or someone who will feed your cat, for example, may cover you. Please instruct them in detail and make sure they understand how to carry out your UNEX tasks before you go.
If you do not have a cover, please make sure to inform us about your absence at least six weeks in advance. In this way we can adjust the production of test letters and you will not receive any test item supplies when you are away.
Change address
If you are moving, please let us know at least six weeks in advance, so that we don't continue sending test item supplies to your old address.
It is easy to let us know by clicking on 'CHANGE ADDRESS' and choose if you either stay within the same country or move abroad. In case you move abroad, you will need to contact us directly. If you stay within the same country, please follow the next steps. Enter the date from which the new address will be valid and your new postcode and click 'Next'.
Please enter your new address according to the sample address on the right and click 'Submit'. It is not necessary to enter the country name.
Please check if the new address has been entered correctly. If so, please click on 'Confirm'. Otherwise, please click 'Back' and correct the new address.
Please note: If you have redirected your mail from your old address, please enter all redirected test items as 'unsure' as the redirection normally delays their delivery process.
Any Questions?
Should you have any additional questions, please check our Frequently Asked Questions:
You can also get in touch with us by sending an email to unex-panel@quotas.de. We are more than happy to help! When contacting us via email, please make sure to indicate your country and your Panelist ID in the subject line. In this way your request or query can be solved and replied to more promptly.
If you prefer to contact us via message, you may also simply use the 'My Messages' feature. 'My Messages' is a communication tool to get in touch with the panel management in case you have any questions. In order to contact us via message, simply click on this feature in your panel zone and type a message. Once completed, please click on 'SEND'.
Any new messages in your inbox, i.e. a reply from us, will be indicated by flashing of this feature and a number – of new messages – in the right upper corner of the 'My Messages' feature.
Last but not least, have a look at the official IPC Recommendation Letter:
Now you are ready to start participating in our postal survey. We hope you will enjoy it!